Sony Ericsson's Vivaz Pro adds a keyboard to flagship phone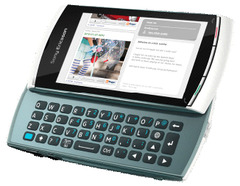 Sony Ericsson announced an update to their consumer phone the Vivaz last night. The Vivaz Pro adds a QWERTY keyboard to the high-end camera phone. Promising all the media and entertainment friendly features of flagship phone the Vivaz, it should make email and SMS easier too.
A key feature of the Vivaz, also on the Pro, is the ability to shoot and share HD video: it also has access to the Symbian platform apps including some good media-focussed ones such as Play Now which enhance the video viewing experience. It uploads video to Youtube over wifi.
The touchscreen is the same size as on the original Vivaz, 3.2″, and the design incorporates the Sony Ericsson human curvature principles of rounded edges and palm-sized ergonomics. Other fun features include handwriting
One sacrifice in the Vivaz Pro is that the camera is 5.1 megapixel instead of 8 as the original Vivaz's camera is. It depends whether your priorities lie in the film shoots or with ease of text input.

The Sony Ericsson Vivaz Pro will be available from April in black and white: no details on price yet.