Skype moves on to the TV, and goes High Definition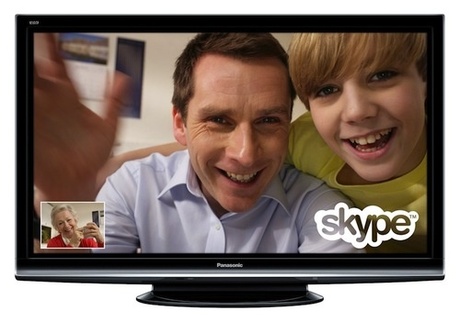 Skype will bring video calls onto the television screen: soon customers will able to download Skype to TV sets that have internet access. And, thanks to a partnership with LG and Panasonic, new TVs from those manufacturers will come with preloaded Skype software and the capacity to run High Definition video.
"We're bringing Skype into the living room, so that you can share family moments – celebrating a birthday, organising a holiday or just having a chat with friends on a Sunday evening – all on the big screen." A Skype press release explains.
Users will need a television that's connected to the internet and a TV-ready webcam. These webcams have special microphones that can pick up voices as far away as the sofa and ideally are optimised for Skype and for your TV.
Skype recommend a 1Mbs symmetric broadband connection.
In another big move, Skype has gone High Definition and now supports 720p HD videos available on PCs as well as on the special TV sets available from its partners LG and Panasonic.
"With HD-quality Skype video calls, we can bring our users even closer to the ones they love through an even richer, more meaningful video calling experience," said Josh Silverman, CEO of Skype. "Imagine being able to see the sparkle of your grandchild's eyes or the setting of your best friend's engagement ring. Through the innovation of Skype's engineers and our hardware partners, these scenarios are now possible without having to buy expensive equipment or software."
To make a high definition video call from a PC – users will need a high-speed broadband connection, a new HD webcam, a PC with a 1.8 GHz dual-core processor and Skype 4.2 Beta for Windows.
HD webcams optimised to work with Skype will be previewed at CES '10, made by companies faceVsion and In Store Solutions.
See Skype's guide to its changes
or follow @skypeonyourtv on Twitter