Facebook game Pet Society shifts over virtual 4m Xmas trees: FB apps raking in micro-payments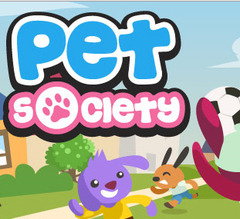 While over 6million Christmas trees were sold in the UK in December '09, there was a roaring trade in virtual Christmas trees being done as well…
Facebook game Pet Society, created by Playfish, sold 4.2million Christmas trees to Pet Society members. In the game players create, train and care for a pet and they can decorate their animal's house with items like Christmas trees.
Admittedly these trees cost a bit less than the real-world equivalents – clocking in at under a pound in real world money, but the demand is still impressive, showing the strength of Facebook games.
Last month Facebook game Farmville from Zynga was revealed to be the most popular game in the world – by number of players – showing the power that Facebook games have. While Pet Society is played by over 21 million people each month. These Facebook games mesh the power of the social network with traditional game structures to create sociable and co-operative games that you play with your real-life friends.
The model of having a free game but selling virtual goods for real money has been successful for Farmville and it seems for Pet Society too. Every day game-makers Playfish sell around 20 million virtual items through its 11 games, with users spending £3 every week on average. Last Halloween, Playfish sold 8 million pumpkins in Pet Society to people wanting to create a spooky home for their pets. More in fact than got sold in real-life in the UK, around 1 million.
See Playfish for more information http://www.playfish.com/?page=game_pets
Pet Society on Facebook http://apps.facebook.com/petsociety/gameinfo?pf_ref=x1019