Nintendo Wii is Britain's fastest-selling games console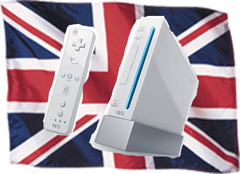 We reported last week on the Nintendo Wii's success among the ladies, and now looks like it's getting a lot of success among the Brits too. (No jokes from Americans please).
Nintendo's Wii has become the fastest-selling home console in the history of the UK, surpassing six million sales after just three years on the market. Launched in December 06, it sold 185,000 in its first few weeks and did particularly well in 2008, selling 2.7 million.
It's not the UK's best-selling console of all time – that's Sony's PS2, a system which has sold a whopping 10 million units to date.
But Gerald on TechDigest is among those pointing out the stickier side of the story: falling sales in the past year.
"it has been a tough year for the Wii, with both the PS3 and Xbox 360 generating far greater interest in the second half of 2009. A lack of killer software and even perhaps market saturation have been blamed for the Wii's sliding popularity".
Related: