Klipsch update their high-end iPod dock and speakers: iGroove SXT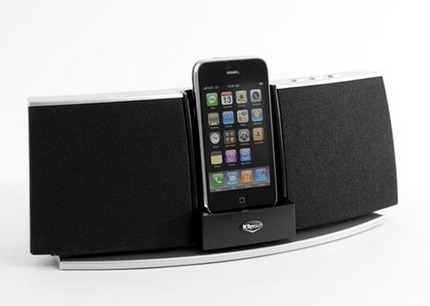 Want a small iPod speaker from an established name? Well.. Klipsch the American audio retailers have updated their everyman's product, the iGroove to accommodate recent iPod and iPhone models.
A pint-sized table top affair, the dock and speakers are discreet but produce high quality sound.
"The iGroove SXT has always been our smallest, most affordable dock speaker," said Don Inmon, Klipsch director of marketing and product development for personal audio.
"And even with all its new updates, we're keeping the original system price of £129.99. I think consumers will be really pleased with the results."
The iGroove has passed the "Works With iPhone" certification (WWi) from Apple.
Klipsch have added a 1000mA rapid charge circuit to the system, allowing users to quickly recharge their iPod, iPod touch or iPhone.
Available in a black finish with a silver trim and black cloth grille, the iGroove SXT fits comfortably into any office or living environment and comes with an IR remote.
At £129.99 the iGroove SXT is available for purchase now from Klipsch and Amazon