iSkin FX SE, the iPhone skin with geometric ripples and a mirror screen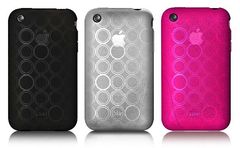 Another day, another iPhone skin, this time it's matte and embossed and in three different colours: Onyx (black), Cosmo (pink) and Ice (white). Cosmo works best with a white phone of course. The iSkins aren't chunky phone-swaddling protectors but they do offer increased protection as well as an interesting feel and the look, which I genuinely like: the translucent designer circles look like geometric ripples.
This one has an anti-microbial substance impregnated in the skin which prevents odours and stains. Another interesting feature on the iSkin solo FX SE is the screen-covering surface which turns into a mirror when it senses that the phone has been switched off. You get two screen covers when you buy an iSkin – one is simple clear plastic, the other is the mirror film.
Available for $34.99 on http://iskin.com