Muzu.tv – the Spotify of Music Videos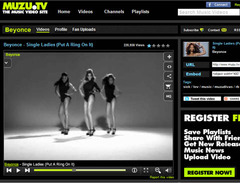 A British start-up have launched a Spotify of music videos on similar principles to the successful music-streaming site.
Muzu.tv have signed licenses with the big labels – including Universal and Polydor – and then let you watch official music videos for free online. They pay for it with advertising, banner ads and wraparounds on the screen and every five songs there's 15 second video advert inserted in. Ad revenue is shared 50/50 with the artist and label.
Youtube used to be the site where you once wasted hours watching Girls Aloud music video after music video – but since Youtube removed masses of license-infringing content from its archive, and Spotify launched, people have been listening to music on places like Spotify and watching music videos elsewhere.
Muzu could dominate pretty quickly in this field, it's a nice format, videos are available in high quality if you want, and it slides automatically into other songs by the same artist so it gets quite addictive.
Unlike Spotify, it's not an app, it's a website and you don't have to register to get the content.
From a quick glance it seems like the offerings are largely chart-heavy but thanks to a deal with Merlin which represents hundreds of independent labels, there are quirkier indie videos on there too.

Sexiest Music Video of all time
As an interesting little way into the site… they recently did a poll of visitors who voted on what the sexiest music videos of All Time are. Britney in Toxic is number one – obviously a lot of people have airhostess fetishes. Poll results below, up to you to judge:
Top Ten Most Sexy Videos
1. Britney – Toxic (the one where she's covered in diamonds)
2. Shakira – She Wolf (the one in the cage)
3. JLS – Beat Again (the one with the laser lights)
4. Girls Aloud – Untouchable (the one with the girls in leather catsuits in space)
5. Kylie – Spinning Around (the one with the gold hotpants)
6. Rihanna – Umbrella (the one with the umbrella)
7. Ciara feat. Justin Timberlake – Love, Sex and Magic (the one where she's draped over him)
8. Take That – Pray (the one with the band semi naked on a beach)
9. Beyonce – Single Ladies (the one with all the thighs)
10. Robert Palmer – Addicted to Love (the one with the girl-backing band with guitars)
In the least sexy stakes, Madonna's muscular display in Hung Up was voted number one with barmy Lady GaGa's Poker Face video taking second place.
Ten Least Sexy Music Videos
1. Madonna – Hung up (the one where she's gyrating in a purple leotard)
2. Lady Ga Ga – Poker Face (the one where she's clambering out of the pool)
3. Spice Girls – Wannabe (the one with them dancing on the stairs)
4. Pink – Get the Party Started (the one where she has weird spiky hair)
5. Rick Astley – Never Gonna Give You Up (the one with the quiff and a mac)
6. Michael Jackson – You Are Not Alone (the one where he's naked with Lisa Marie Presley)
7. Take That – Do What You Like (the one where they're naked and covered in jelly)
8. Billy Ray Cyrus – Achy Breaky Heart (the one with Billy Ray's mullet)
9. Wham! – Wake Me Up Before You Go-Go (the one with George Michael in the 'Choose Life' t-shirt)
10. David Hasslehoff – Jump In My Car (the one where he thinks he's all that)