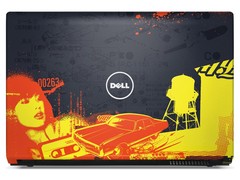 MTV always makes me wish I was a bit cooler and had a neon hoodie. Now it's making me want a laptop. To be more precise – the official MTV Europe Awards 09 laptop.
Dell is sponsoring this year's MTV Europe Music Awards (EMAs) in Berlin, and to mark the occasion, it's launching a limited-edition laptop featuring the sexy case design you can see on the left.
It's a Dell Inspiron with a design created by urban artist, Filth and comes with a free album download from the Dell Download Store. I'd like it if it came with a fashionable hoodie personally, but I suppose an album is relevant, what with the whole music connection.
If you're interested in the MTV awards, Dell are also offering free tickets to the event in Berlin in November all you have to do – this is the catch – is upload a video of yourself singing 'Lollipop' (the chirpy little Mika hit) to www.amplichoir.com
The winners will get put up in a top hotel in Berlin and get to hang out on the red carpet
alongside the likes of Greenday, Tokio Hotel and X Factor favourite Leona Lewis.
The losers will just have an embarrassing video of themselves on the internet.
Dell are getting into the personalised case game – with their whole selection of candy-coloured netbooks. Their Studios are as close to Macs as mid-priced PCs get – or I like to think so anyway. Being the possessor of one.
The MTV Dell Inspiron is available on www.Dell.co.uk/MTV and costs £479 (inc. VAT).