How to buy a laptop: the Shiny guide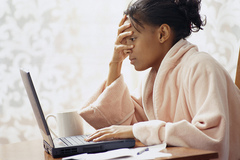 Friends, men and cats come and go, but you're going to have a laptop for at least two years, so you should pay attention when you're getting one. It may not be the most important thing in your life, but the bond between a girl and her laptop is always a special one.
Even if you've got a snazzy bells-and-whistles desktop computer, you'll probably want something to watch a DVD on while sitting in bed, or just something that can move.
So of course it's worth getting a laptop that suits you, and that doesn't necessarily mean the most expensive one. Work out what you need and don't pay for things you aren't that fussed about.
We cast a beady eye over Seven Things to Take into Consideration when buying a laptop.
Read more after the jump

1. Price – bang for your buck
Look for: the price tag (of course), offers, deals with internet providers and the optional extras that can make good models cheaper
What's your budget? Tiny text-edit-and-internet netbooks can cost as little as £100 – see our 5 netbooks for under £200 feature.
Mid range spans £300-800 – with most of Dell's Inspiron range and Apple's entry-level MacBook falling into this category, with specs getting better as prices increase.
At the top-end, glamorous power-machines cost up to £1000-3000. It's £1349 for an Apple MacBook Air or a dizzying £2554 for gamer computers like the top model in Dell's Alienware range – ones that you really wouldn't want to leave on the bus.
Use Google Shopper to compare outlet prices on laptops and definitely consider buying from well-rated internet retailer. Though watch out for the guarantee periods.
You can get good models for less money if you cut down on features when customising. So versions with less hard drive space or smaller batteries will cost less than the optimum, which is worth considering.
Some mobile phone companies, O2, Orange, Vodafone, T-Mobile and 3 offer free or cheap laptops when you sign up to a mobile internet contract with them, often for 18 or 24 months. Laptops on these contracts are usually smaller netbooks. Make sure your supplier has a good signal in the area where you live.
2. Functionality – how fast it is, what it can do
Look for: the Chip, the speed
Are you just editing word docs and sending emails? Are you editing pictures/videos/music or are you gaming?
Go for a dual-core Intel chip unless you want a really cheap netbook. Intel's dual core chip technology speeds up processing and means you can do more things, more quickly than with single core chips.
Intel's dual core chips range upwards from the Core Duo to the Core 2 Duo, to the Core 2 Extreme, a powerful gamer's chip, hitting a maximum speed of 3.3 GHz. 2GHz or above is recommended for a good all-purpose laptop.
Netbooks usually work on Intel's Celeron or Atom chips – cheaper but slower, with Atom running at around 1.6-GHz.
3. Memory and hard drive – how well your laptop can multitask and how much of your stuff it can store
Look for: RAM, and the size of the hard drive
For your computer to work quickly and let you download a video while you're checking your email and playing music, it needs a good short-term memory as well as a good chip. RAM is the name for the processing memory on your laptop. About 2GB is good, 1GB is minimum.
Where RAM stores information while you're using the laptop, the hard drive holds all files in storage. You can always supplement storage space with external hard drives, but if you want to keep films or music or even high-definition pictures on your computer it's worth shelling out for a bit more. A 60GB hard drive is a basic, most models have over 100GB. The top Dell Inspiron model clocks in at 500GB. HDD hard drives are more cost-effective than SDD ones.
4. Portability – will it fit in your bag? will it break your arm?
Look for: weight, dimensions and battery life
If it's a laptop, you'll probably want to move it around. Consider size, weight and of course battery life. Light laptops clock in as under 1kg, like Toshiba's 12.1 inch Portégé R500 weighing only a featherlight 779g.
Desktop replacement behemoths are likely to weigh 4kg or over.
Laptop with core duo chips tend to have battery lives of about 3.5 hours, though the Macbook claims to have 5 hours – switch off wifi to improve the battery longevity. You can usually choose to buy extra strength batteries which can last up to twice as long as normal ones, though weigh more.
5. Usability
Look for: screen size and try out the keyboard
If you're really keen on moving your laptop around, then you'll probably have to cut back on screen size and compromise a bit with the keyboard. As screens get bigger so does the whole machine of course.
Screens are measured diagonally, and usually range between 12 and 17 inches. 15 is a good compromise size.
Though you get used to different keyboards eventually, it's good to test them out in the shop, so that you can get feel for ones that may end up annoying you. Though most laptops use touchpads for the mouse, some models from Lenovo, Toshiba and Dell have "control nipples" or pointing sticks which do the same job. Try them out and see what you prefer.
6. Communcation
Look for: ports, wifi enabling, DVD-burners
Nearly all laptops are wifi-enabled and will come with at least 2 USB ports. It's worth getting one with a CD/DVD drive that can burn DVDs as well as playing them, so you can not only make videos, but also store usefully large amounts of information on DVDs.
Blu-ray is slightly more common than HD (high-definition) in DVDs, so check if the player reads Blu-Ray.
7. The Look/ lust factor
Look for: brand, kooky colour varieties
Some laptops are better designed than others. Apple is usually the market-leader in looks, but also check out colour varieties on popular models, and deals where computer cases can have customisable patterns. Dell has been making an effort with its candy-coloured Inspirons, and its expensive Alienware range – handsome versions of Darth Vader. Smaller players Sony and Toshiba with their Portegees have some elegant offerings.
See also: 5 Netbooks for under £200 and Alienware MX Gaming maching