Smart reveal the sporty green Brabus : Comes with sound generator for that vroom vroom effect!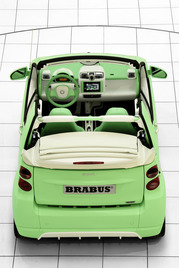 Cars and eco friendly don't really tend to fall into the same category as each other- unless you're talking about electric cars that is. Even so, style normally seems to be lacking from these economical numbers (for example) but the latest model from Smart has managed to tick all the right boxes.
Not only does its lush green and white leather interior look eminently desirable, they've also given it some features that would make the most hardened eco warrior feel all warm and cuddly inside.
They've taken the popular smart fortwo design, added Moonblock V11 alloys, and given the cabriolet a lovely white top.
The car can manage around 70 miles on a single charge at a top speed of 60mph. True, it's no Maserati, but then it's not harming the environment one little bit, as there are ZERO carbon dioxide emission and they've even included a feature for petrol-heads. I'm talking about the Brabus sound generator, which mimics the noise a race car engine makes when it revs up, which may help you feel like you're driving something a lot more powerful (or feel like a total tit).
The car will go into small scale production by the end of the year and start from £8,272. For more info check out Smart here.
More car stories here