MSI get ultra slim with the X340 notebook: Should the MacBook Air start cowering?
At CES MSI told us about its ultra light laptop the X320, that would rival the MacBook Air for weight and design, and existed in a spectrum of beauty so pure that eyes would weep at its glossy finish and ultra refined keyboard layout.
Well times have moved on, and now not only is the ultra lovely X320 available to purchase, it has already been outdone by it's younger but spec heavier brother, the X340.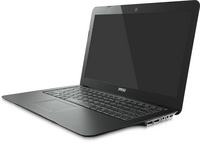 So what do you get for your cash?
Well the X340 combines a 13.4 inch display with a 16:9 ratio, which means that you can watch movies without those annoying black bars at the side. It also gives you 2GB of memory, and has a whopping 320GB HDD.
The X340 has 2 USB ports, an HDMI port and a 3 in 1 card reader, as well as a 1.3 megapixel webcam, Bluetooth, Wireless LAN and it comes with an external Blu-ray optical drive. It comes in black, white or silver and utilizies LED Power saving back lit technology to extend battery life to its utmost capacity.
It weighs in at 1.3kg, which is lighter than the 1.36kg held by the MacBook Air, and is 6mm thick at its thinnest point and 19.mm at its thickest. The price tag is noticeable lower though, and the difference in screen size is so small it's hardly worth noting.
The true test will be to see if the Intel Centrino processor lets the machine work at high speeds, but otherwise it looks like we have an Apple killer on our hands.
£859 from MSI
More computing news here