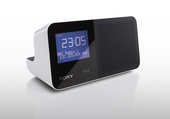 We're offering four lucky Shiny readers the chance to win a stylish Sony DAB radio of their very own, for the mere effort of sending an email. How nice are we?
To celebrate the second year of the Sony DAB 'Rising Star' award, we have four sleek and stylish Sony XDR-C705DABW digital clock radios worth £70 each to giveaway. See after the jump for how to enter.
Promising radio newcomers have been shortlisted for the coveted Sony DAB 'Rising Star' award by an independent panel of UK radio broadcasting experts including BBC Radio 1's Colin Murray, renowned radio legend Tony Blackburn and TV personality Danny Wallace.
To win tell us what's the name of the show that Katey Wallace presents,
and send your name, address and the answer to this address by the 28th April 2009.
a. The Breakfast Show
b.The LunchtIme show
c.The Night Show
See here for our T&C's.