The Samsung Omnia… only upgraded and with HD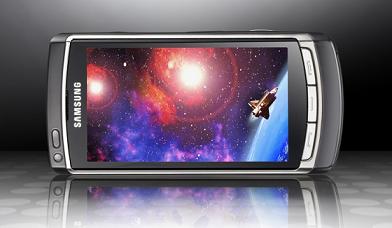 When the Samsung Omnia made its first appearance last year, it was just before the iPhone 3G came along and revolutionised the lives of many. Many thought it'd be a good 3G contender, but within weeks of hands-on experiences and reviews, followed by the hotly anticipated iPhone 3G debut, it was soon realised the Omnia didn't quite make the cut. But iPhone 3G competitiveness aside, it was a great phone. So following a return to the drawing board, Samsung got its thinking cap on and have returned with the Omnia HD.
It'll be no surprise then, that it's aimed at people with a need for connecting to HD content on the move. This includes both shooting HD video and watching HD content on your HDTV via DNLA connectivity.
Samsung is claiming a world's first by being able to capture 720p HD video at 24fps, equipping you with the ability to shoot and upload HD content and capture high quality pictures on its 8 megapixel camera. But world first's aside, the Omnia HD is Samsung's first full-touch Symbian handset – that's 3.7-inches of touchscreen HD goodness.
The camera sports all the usual camera capabilities such as face detection and smile shot, but only packs an LED flash. And connectivity-wise you're looking at HSDPA, WiFi, GPS and up to 16GB of internal storage, or 32GB with a microSDHC card.
It'll be available from the second quarter of the year but Samsung is keeping tight lipped about costs.
[via Pocket Lint]
Check out the latest phones here