Samsung preps an LG Cookie rival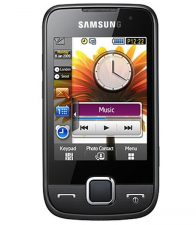 The LG Cookie brought something special to the mobile phone market last year – a basic, and more importantly, an affordable touchscreen phone for people who so badly wanted in but couldn't necessarily afford any of the more popular and high-end touchscreen handsets. Could this be the beginning of a new trend?
The news of the Samsung GT-S5600 certainly suggests so. It was initially unveiled at MWC last week, and since then, it's been popping up all over the web and being touted as a rival to the LG Cookie – i.e. another reasonably priced touchscreen phone. It'll sport Samsung's TouchWiz UI as well as the home screen widgets which have become a standard feature on many a Samsung handset.
Specs are currently a mystery, as are availability and pricing details – Samsung is happy to keep those lips locked for now. But as soon as we know more, so will you.
[via Know Your Mobile]
See what other mobiles were on show at MWC here