iPod Nano 4G + iTrip = wireless music on the road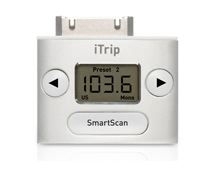 Who wants their in-car playlist dictated to them, with the interruption of vociferous radio DJs interrupting every ten seconds? Not me that's for sure.
Now iPod Nano 4G owners can finally join the rest of their brethren in the radio/iPod mashup arena by *finally* being able to listen to their iPod playlists via their FM radio. Griffin's iTrip provides the key. This little in-car audio streamer attaches to the bottom of your little player, which means no adaptor cables and no tangled wire-related break downs – it's completely wireless. The iTrip also features SmartScan that'll scan and save one clear frequency quickly and easily, so you don't have to do while driving and potentially run the risk of veering off the road (or into another car).
As it's wireless, you must remember to charge your iPod – no battery equals no juice. It's compatible with all generations of iPod Nano and retails for £29.99 from Dixons.
More iPod related gadgetry here