Shiny review: Etymotic hf2 in ear headphones
I've been using these for a while and am so impressed by the sound quality and the amazing contoured ear buds that I just had to share my experience with you. I'm quite pernickety when it comes to headphone as I have quite a large criteria that's normally very difficult to fulfill, but the hf2's do a stalwart job of living up to my expectations.
Design
They come packaged in a rather large box, but once you've ripped it to shreds you're left with a small pouch to keep them in with a variety of extra ear buds in differing sizes. I've been using the red ones, and as you can see from the pic, they really resemble the promo shots. The metallic red is a nice dark colour, and you also get a handy clip attached to the wires- great for pinning the wires to your shirt whilst out and about.
Compatibility
Whilst not exclusively designed for iPhone/iPods etc, the hf2 is designed to work in conjunction with them, which means you don't need an adapter to plug them in, and they'll automatically silence your music when you get a phone call. You can leave your phone in your pocket though, as you can reply to all calls using the inline mic, which is also encased in the same shiny red colour you get on the earphones. They don't work that well with every MP3 player though, as I had volume issues when using these with Archos and Samsung devices, where the sound was distorted and I couldn't alter the volume. However when used with an Apple device they were 100% perfect and offered incredibly crisp sound.
The Earbuds
These slot into the easier amazingly, the contoured buds offering amazing noise isolation and they're pretty comfortable as well. I tend to use headphones mainly at the gym and they were still in place after a vigorous treadmill workout which highly impressed me. They advise that you twist them to take them out, but I found pulling worked just as well. You get three different sizes to suit all ear canals.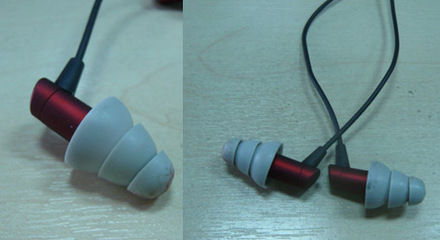 Sound Quality
They say you'll get hi fidelity audio, but what they don't tell you is that the sound delivered is the crispest sweetest noise since Beethoven moved into elevators. The armature drives capture frequencies between 20Hz and 16KHz which gives a lovely light sound with a very smooth bass undertone. Music sounds very full bodied, and when making calls, the line is really sharp, so you don't miss out any important updates on the latest LOST developments.
The Verdict
These are lovely looking headphones that provide great audio clarify and are a really comfortable fit. Unfortunately they don't work that well with all Mp3 players, but if you're an Apple devotee these will be the 'phones for you. The pricing is high, but in this case you really do get what you pay for.
£97.82 from Apple
See here for more audio