Sponsored post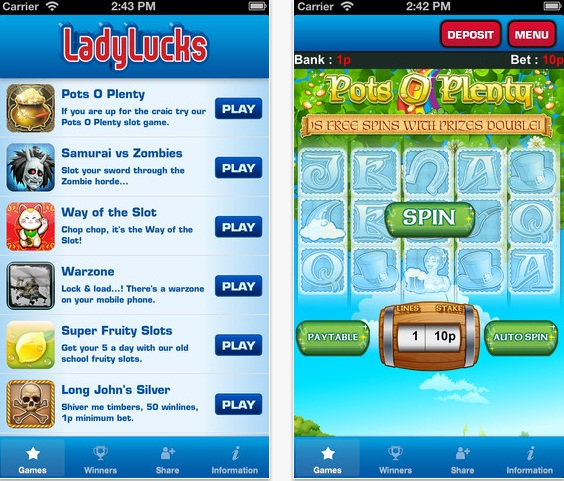 Feeling lucky? Here's an app that not only gives you access to some cracking casino games but also starts you off with £5 to spend.
Yep, download LadyLucks Mobile Casino to your iPhone or iPad and you'll instantly be given a £5 bonus. And who knows, that £5 might turn into something a lot bigger. For starters all new players qualify for a 1st, 2nd AND 3rd deposit matches up to a total of £225!
And there's more. LadyLucks pays out over £10 million each month to winners.
There's a fabulous choice of games to choose from all of which are unique to the LadyLucks app. So whether you want to play Roulette, Blackjack, Bingo or have a go on one of the fantastic slots games such as the exciting slot War Zone or double jackpot game Loopy Lotto, you are spoilt for choice at LadyLucks.
LadyLucks also believes in looking after its players. So if you download the app and join the thousands of players already loving the games you may end up being rewarded with generous bonuses and brilliant promotions.
Also if you refer a friend LadyLucks will give you a further £20 in bonus money.
Take a look too at the exciting LadyLucks Facebook community where you'll find details of even more bonuses along with sneak previews of new games.
So if you are feeling lucky then download the app and get started. You need to be at least 18 years of age with a UK mobile device running at least iOS4 with location services enabled. to register.
Good luck!
LadyLucks is available for free from iTunes.
Sponsored post for LadyLucks
Think you know Assassin's Creed ? Prove it! Take our Assassin's Creed travel quiz