HTC Sensation XL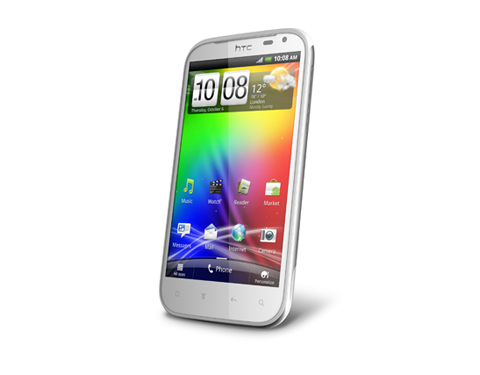 We got the chance to have an exclusive hands-on with the
Sensation XL earlier in the year and fell in love.

The handset has an 8MP camera on the back as well as a dual LED flash and a
28mm f2.2 lens, which seemed to worked surprisingly well during our hands-on
session.

All of the Instagram fans out there will LOVE the fact that the camera comes with
a range of different retro-like filters too.

The 4.7 inch display is pretty impressive and means the user experience is much
MUCH better than a standard smart phone. You can watch movies and TV shows
without having to squint, and obviously it makes the camera work better and
editing much easier.

During the briefing a member of the HTC team explained to us that this is the first
handset which has been built with Beats integration from the ground up, meaning
every part of the Sensation XL is dedicated to giving you the best possible audio
experience.

Whether you think the Beats integration is cool or not may well depend on your
personal music tastes, with fans such as Will.i.am, Justin Bieber and Lady Gaga,
for some people it might just be a "so what".

You'd definitely expect a phone which shouts BEATS, BEATS, BEATS at the top
of its lungs to come with some fancy Beats headphones, and you'd be right.
Every handset comes with a pair of urBeats included and some limited edition
devices will even be paired with a larger Solar set of headphones too.

The HTC Sensation XL has HTC Watch, a built-in application and service which
puts a huge library of movies and TV shows into your pocket. HTC Watch uses
progressive download technology, which means that you can watch any kind of
video without having to wait for it ALL to load and it allows you to either rent or
buy movies.

Who's the HTC Sensation XL for?

If you know the person you're buying for this year depends on their handset for
catching up on TV shows, watching videos and listening to lots of music on their
Beats headphones, then this is the ideal handset.
As every big mobile tech brand competes with bigger, better, faster and shinier handsets it can be hard to find the right smart phone among a sea that all look, sound and feel the same.
So, here's our five favourite smart phones of the moment that'll make great Christmas presents. Check out our recommendations about who each will be best for too, but remember to do a bit of sneaky research yourself, if the person you're buying for is a die-hard Apple fan nothing else is likely to cut it in their eyes.