Topshop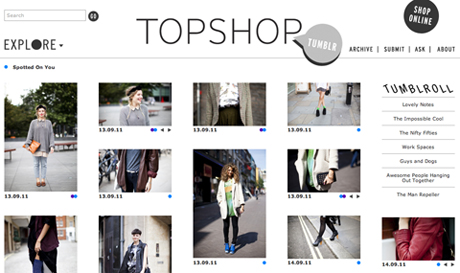 http://topshop.tumblr.com/

Topshop's Tumblog is focused on collecting outfit shots, from members of the team
to randoms on the street. The brand is encouraging people to submit photos of
themselves in their favourite clothes, which are then featured on the site.

The design is nice and simple and a frequently updated street style photo
collection that features user-generated content is certainly a good add-on to
Topshop's impressive online presence.
Not only is Tumblr a simple and intuitive blogging platform that we heart, but it also looks rather lovely too, making it a popular choice for all kinds of bloggers, particularly those with a love of fashion.
There are plenty of amazing blogs on Tumblr dedicated to style news, advice and photography, but which of our favourite brands have Tumblogs worth following too?
Here are five of our favourites, from high street to high end.