Shiny Review: Archos 3 cam vision mp4 player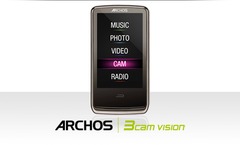 Generally speaking, I quite like Archos gadgets. Which is why I was particularly interested to test-drive the company's latest 3 cam vision mp4 player…
And, upon opening the box, it doesn't disappoint. It's got a very reasonable 3 inch touchscreen (400×240 pixels), but – at 62g – is surprisingly petite and lightweight. And with a single 'back' button outside the touchscreen itself, it's a very streamlined and stylish piece of kit. The screen did get smudgy quite quickly, but maybe that's just my grubby mitts.
Switch the mp4 player on and you arrive at the very straightforward and intuitive menu system. Greeted with Music, Video, Photo, Camera and FM Radio categories, it's extremely simple to find your way around. However, this is unfortunately where I came to my first niggle… The touchscreen might look great, but it wasn't nearly as responsive as I wanted it to be. Several buttons took more than a few fierce prods before getting me where I wanted to go.
When it comes to the all-important camera, compatibility with JPEG, BMP and GIF images gives you plenty of options. Photo quality is fine, but I found that – with the camera lens on the very right hand side of the device when you're taking a snap – some of my photos had stray fingers wandering in shot. Also, reviewing your photos once you've taken them isn't as comfortable as it could be – I had to move from the camera to the main menu, and then back into the Photos folder to see how they looked. Video recording and playback works well, with MPEG, WMV, FLV, AVI and RMVB files all good for this device. Tapping the screen reveals or hides the video controls, and the pleasingly sharp screen means your videos look colourful and clear.
Of course, the music and radio needs to be good – which it is. As you'd expect, it's easy to transfer files by copying / pasting in Windows Explorer, although you can use Windows Media Player to synchronise video, music and photos if you like. (For karaoke lovers, any .LRC (lyrics) files you upload will display song lyrics as you listen.) The headphones are a bit flimsy and the sound is fine, but the temperamental touchscreen caused me more problems when it came to volume control and skipping from one part of the track to another. The radio was great though, giving me a good clean sound while I pottered around the streets of London.
Overall, I love the streamlined look of the Archos 3 cam vision, and I like its sheer simplicity. And I almost wanted to love the gadget more. But it will take a smarter touchscreen to make me ditch the iPod.
The Archos 3 cam vision mp4 player is compatible with Windows, Mac OS X and Linux systems. Visit the Archos sitefor more info.