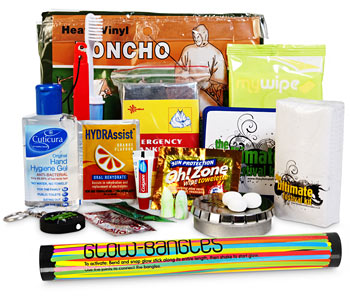 This is actually a bit of a lifesaver if you're the kind of person who forgets your
toothbrush. Because (as well as a toothbrush) it includes antibacterial gel,
poncho, tissues, keyring torch, sunscreen wipes, a rehydration sachet
(orange flavour), wet wipes, earplugs, mints, condoms, an emergency
blanket, a mini first-aid kit and - most essential of all - glowsticks. All you need
to do is remember the tickets.
Whether you're off to Bestival or Download this year, you're going to need more than a tent and a clean pair of pants. That's why the team at IWantOneOfThose has put together a list of their essential festival gadgets.
We've picked our favourite five. Scroll through the gallery and see what you need to put o your list…