Psst wanna buy an imported iPad? The UK eBay iPad scramble begins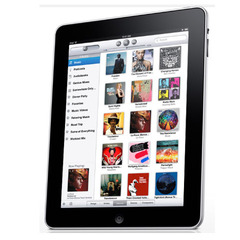 Today at Shiny Towers we have been discussing how we might be able to nab one of the iPads that lucky Americans will be taking delivery of very soon. We thought about a quick trip to New York (too pricey), enlisting one of our Stateside buddies (bit worried about customs) and a few other wheezes, but none seemed to work.
Well we needn't have worried, because any British would be iPad owner can get one from good old eBay.
Here's the page you need to go. A quick glimpse will show that prices aren't that bad. At the current time there's a 16 Gig Wi-Fi iPad that's shifting for not much more than £400. Its equivalent price in US dollars is $499 which, given the state of the pound, actually sounds quite reasonable. The iPad auctions that have ended have tended to finish up at around £600 for a 16 Gig model, so don't get too excited yet.
So should you do it and buy an iPad off eBay
No – You will only get about three weeks of gloating. How reputable are the dealers anyhow? The iPad isn't that hot is it? The 3G version is much more useful. You will be paying well over the odds.
Yes – Three glorious weeks of gadget gloating
There is one other very strong argument for buying an iPad from eBay now. Apple hasn't always hit its targets for UK launches. There have been times when its products sold out in the US and there were none left for the UK. I think that has happened at least twice most memorably with the launch of the iPod mini. Who's to say it won't happen again.Just think you could be the proud owner of an iPad while others are waiting many months for theirs.
Just a thought