Motorola Milestone marks out new territory for Androids
Bearing the epic name of the Milestone, Motorola's new top-end smartphone has the qualities of a very serious new contender.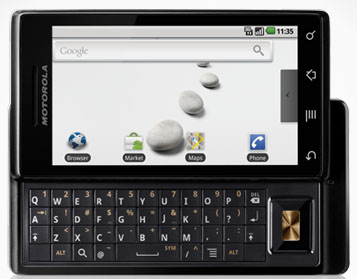 The first phone to run Google Android 2.0, the Milestone has a QWERTY keyboard, a slender slider screen, high resolution graphics (better than iPhone) and square masculine corners.
Similar to Motorola's previous Android phone, the Droid, it has a 5megapixel camera with flash, a micro-SD slot and 3.5mm jacks. However the Milestone boasts a more responsive touchscreen and will ship with a 60 day trial of the Google Maps-powered MOTONAV Sat Nav.
The Milestone will cost £449.99 contract-free. See Motorola for more information.

[via TechDigest]