HP's new Pavilion dV8 Entertainment PC is home entertainment in a laptop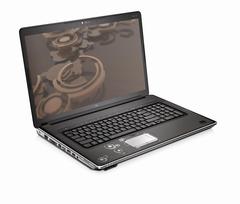 It's big, it's shiny and its got a subwoofer. The Pavilion dV8 Entertainment laptop – the new PC from HP is all about home entertaining at high quality.
With a 18.4-inch screen it's pushing into the desktop replacement category and with high-definition, an ultra-widescreen display and a built-in TV tuner it looks like it's also trying to replace your TV. Oh and there's a blu-ray disk reader as well.
Don't you dare just use this to watch drunk squirrel videos on Youtube.
The body looks quite swish- with a liquid metallic sheen and some cutey little doodles. Battery life is strong thanks to HP's Long Life Battery, powered by Sonata cells from Boston-Power, which supports more than 1,000 recharges, an improvement of three to five times over conventional lithium-ion batteries, they tell us.
And yes it does have the brains to power all the entertainment challenges. The Pavilion dv8 runs on an Intel Core™ i7 processor and comes with a NVIDIA GeForce GT 230M graphics card with 1GB DDR3 SD RAM, plus the hard drive, more than enough power for even the most demanding entertainment needs.
The HP Pavilion dv8 Entertainment Laptop PC is available from 22nd September at £1299.99 inc. VAT. from HP.com/uk