Shiny Interview: Dave Gibbons from Watchmen shares tips on how to write comics and what TV shows to watch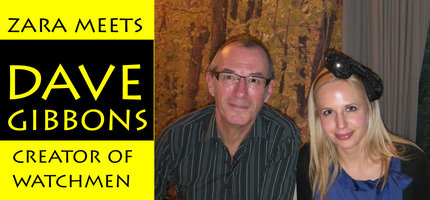 Intel is sponsoring the Digital Artist awards, and who better than to run their masterclass in the art of drawing comics than the delightful Dave Gibbons from Watchmen fame. I was lucky enough to get the chance to attend a session with him, and grabbed some alone time with the man himself afterwards.
In person he's surprisingly easy to talk to, and though I may have come across as a slightly addled fan, we managed to talk through his favourite comics, how technology advances aid his work nowadays, and of course, his relationship with Alan Moore…
How did he get into comics?
'I always wanted to do them , but from 7 years old I went to a quasi public school, 'the real Tom Brown' and comics were frowned upon, with desks raided and bonfires of the illicit material. I used to read Nic Fury: Agent of Shield- and that has definitely influenced me', Dave tells me.
Comics he reads:
'Growing up I was never a big fan of Marvel' he revealed. 'I always preferred European comics, though I will agree that Marvel did help revolutionize the comic field.' He says that nowadays he doesn't have that much time to read a lot of new material but says he enjoys Brian Lee O Malley, creator of the much loved Scott Pilgrim character. When asked how he'd encourage more people to read comics he laughs. 'It's always about creating stories of interest', he says, 'You've seen how successful Manga has been in recent years, and they have amazing storyboards.'
How to create comics
'If you can't Twitter it, don't write it,' is Dave's advice on dialogue, as he feel so many people opt for stories that are to wordy and don't pay enough attention to the picture detail. 'What you'll notice in Watchmen is that we used no sound effects at all', he says, 'We simply let the images do the talking- it was a conscious stylistic choice'.
'When writing a comic try and write no more than a paragraph for each page of the book, and then use that as a guide when you're scripting and sketching it. A good rule of thumb is to work from the general to the particular to make it more cohesive.'
How technology has changed comics
'A long time ago it took forever to make a comic- you'd draw it out and then every single dot of ink was painfully transcribed by hand- computers have revolutionized the industry. The internet is a great resource when researching a scene- there are no excuses to get anything wrong anymore.
'I like to use the POSER program to create comics with, on my Wacom tablet, and I think that Manga Studio V4 is also great.'
On Alan Moore…
Does Dave think Alan will view Watchmen? 'My belief is that Alan will not watch it-he hasn't seen V for Vendetta!' he says laughing, and I decide not to press the matter. He says they have an 'amicable' relationship though.
Which character doe she most identify with?
'I identify most with Night Owl, I created the whole look of him, I suggested the costume and everything- he's who I associate with most- he's a very gentle man, with a lot to give'. So he has fantasies of being a superhero then? 'No, not really,' he says. 'If I could have a superpower it would be to fly- that's a very benign power and it would be really amazing'.
What other comic of his would he like to see turned into a movie?
'One of my favourite heroines is Martha Washington, a young black female character from my earlier works. The collected Martha Washington collection is out later this year- she's a very strong character- I'm sure she'd translate well to the big screen'.
What he likes to watch and read
'When I was younger I read a lot of science fiction, but now I really love non-fiction, and historical novels, I find the history of 100 years ago so fascinating, where people lived without TV and electricity, when sleight of hand and perception really made a difference'.
TV wise, he tends to enjoy a lot of box-sets, as well as having a weak spot for Simon Cowell… ' I'm really hooked on Britain's Got Talent', he reveals. 'I also enjoy the Sopranos, the Wire- I do like a good drama!'
But he's not quite become a pipe and slipper man…
' I really enjoy a glass of white wine in the evenings,' Dave says, ' I like a nice Pouilly-Fuissé'. Well, if you're offering…
Find out more about Intel's Digital Artist Awards here.
Related: Could you be 2009's Digital Artist of the year?