CES 2009: Sonoro brings on the Stardust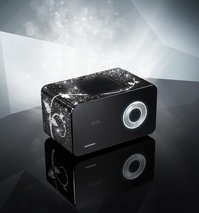 You know when you see something and you're all, like, "OMG, that's *so* Shiny Shiny"? Yeah. That.
This is the Sonoros Stardust, which is adorned by no fewer than 3,900 Swarovski crystals, ADORNED BY HAND. Can you imagine having that job? Under that sparkle, there's an AM/FM radio, an aux in jack for MP3 players, a clock with alarm and battery back up in case there's a power failure. So, not the most highly spec'd of devices, but so sparkly!
For more CES news, click here.