Let's face it - when it comes to mobile there's only two major players. Apple's iOS and Google's Android together dominate the phone market - and anyone who wants to pretend that Windows phone or even old man Blackberry stand a chance are either deluded or working for those companies respective PR departments. But that doesn't that they never have any good ideas.
Whilst I'd hesitate to recommend switching to Windows Mobile for the time being, due to a chronic lack of apps (see here to read me banging on about ecosystems), the Windows 8 mobile operating system does have some good idea. So here's some ideas I'd like to see iOS pinch - so that they can be used by everyone, and not just the contrarian in the room with his weird phone.
MS Office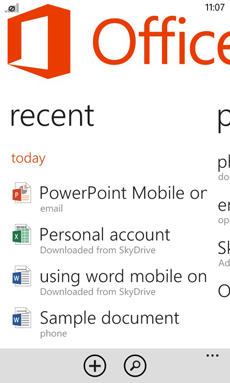 The big plus points for Windows on a tablet for anyone looking to do
some serious work is that it sports full Microsoft Office. Not just a cut down viewer but
the full thing, which you can use with your fingers and on-screen keyboard. Edit
documents just like you would on your computer - but on the go.

If you're running Windows on a mobile too there's also a very nice to use built in
viewer and editor - it's not quite as fully featured as its desktop/tablet cousin, but
certainly does the trick. It even plays Powerpoint presentations complete with the
correct transitions!
Think you know Assassin's Creed ? Prove it! Take our Assassin's Creed travel quiz