Augmented reality brings wonders to the car windscreens of the future as imagined by British car glass manufacturers Autoglass.
Autoglass® vision for a revolutionary car windscreen in 2020 with augmented reality, visual sensors & GPS technology.
Will the car windscreen display key information about speed, fuel and any issues with parts of the car. Even combine visual sensors with augmented reality , online maps and GPS technology to provide drivers with live, visual information about the places and hazards around them.
Dr Chris Davies, head of technical research & innovation at Autoglass said, "As well as accounting for up to 30% of a vehicle's structural strength, the windscreen has become an interactive tool for sharing information and improving the driver experience. Essentially the car is becoming more like a laptop and the windscreen will evolve into the virtual information screen."
>> LOVE the comment about cars becoming more like laptops. That's device convergence for you…
More on AutoglassUK
By Anna Leach | May 23rd, 2011
---
---
Must read posts: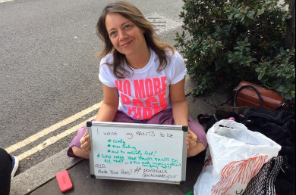 shinyshiny speaks to No More Page 3's Lucy-Ann Holmes...
---
---