If you're not in a relationship it can be hard to find a decent girl or guy who isn't a complete scumbag or just incredibly boring, but we want you to be able to have lots of sex and run through meadows and send each other cute emails and all of that other stuff that happens when you're in a relationship. So we're here to help you find that special someone online…
Now there's still quite a big stigma attached to online dating (we blame slasher films), but if you're based here in the UK it's becoming more and more popular, with sites like Guardian Soulmates, Plenty of Fish and eHarmony really taking off and attracting all kinds of different people who are now all happily doing the sex and meadows and emails thing. Of course there'll be crazies lurking on them like there is everywhere else, but these sites are considered some of the most popular and "successful" at sorting people out with dates, dinners and all that other jazz.
However, we decided to venture into the weird and wonderful world of online dating, just in case you happen to be looking for something a little more niche…
[This was one of those lists we pulled together with the help of Twitter, so here's a little shout out to everyone who contributed, thanks guys
@ananyah
@teriTECHno
,
@rich_trenholm
,
@bluevespertine
,
@timhoang
]
By Becca Caddy | August 20th, 2012
If you're a hot piece of ass
If you've tried online dating before and just find no one's up to your impeccable
standards, then sign up for Darwin Dating, which is "exclusively for beautiful,
desirable people". But wait, there's a long checklist of things you're NOT allowed to
have if you want to be a member, such as "acne", "red hair", "pasty skin" and "teeth
that aren't straight". Don't expect any to give a shit about your personality or
intelligence, this site seems purely about vacuous, hot people. Although the guy on
the homepage doesn't fill us with much confidence that it's not just full of people
who seem to *think* they're hot…

/www.darwindating.com
---
---
Must read posts: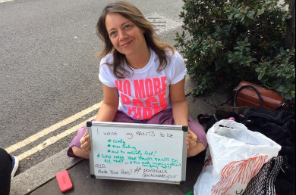 shinyshiny speaks to No More Page 3's Lucy-Ann Holmes...
---
---