Those Apple rumours just keep coming, especially coming up to the iPhone 6′s rumoured launch window, and keeping up with them all is proving to be a difficult task. To keep you up to speed, here is today's round-up of the biggest Apple rumours and news.
1. China Mobile has already started accepting pre-orders for the iPhone 6
The iPhone 6 hasn't even been officially announced by Apple, but a China Mobile is already accepting pre-orders for the device — and it's received 33,000 of them already. The only thing is that they're offering either the 4.7-inch model or the 5.5-inch model, without showing any pictures or revealing a potential release date. Although China Daily claims that users could start receiving their phones in the middle of this month.7
Let's just hope they don't end up being sold cheap Android knock-offs. [China Daily via MacRumours]
2. The 5.5-inch iPhone 6 will reportedly have an impressive battery

The iPhone 6 has been at the brunt of many rumours indicating that some of the phone's hardware is going to be rather mediocre when compared to the competition, one of which was a battery capacity somewhere between 1,800 mAh and 1,900 mAh (the exact number varies). But the latest rumours indicate that some iPhone users don't need to worry about their phone not lasting through the day, because reports are saying that the 5.5-inch model will have a whopping 2,915 mAh battery.
We've heard this rumour before, but it's nice to see it being corroborated by other sources. While battery capacity isn't everything when it comes to battery life, it certainly is important an important factor to consider — especially when the competition generally includes battery capacities well over 2,500 mAh. [Nowhereelse.fr via BGR]
By Tom Pritchard | September 3rd, 2014
---
---
Must read posts: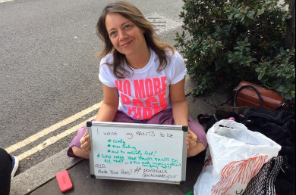 shinyshiny speaks to No More Page 3's Lucy-Ann Holmes...
---
---