The common wisdom is that Facebook can stop you getting a job – that the "I can down 8 pints and then do a handstand" group you started back in 2006, will rise out of the archives of the web and haunt you, warning off future employers and making you the laughing stock of the HR department.
But what if Facebook could help you get hired? And really – it can. I'm a social media optimist so I've always believed in this. But it makes sense if you think about it – it's all about networking, and that's particularly useful if you have friends who work in the same industry as you, or in similar companies. It lets you keep in touch with those valuable contacts you met at parties, it means you can reach out to those friends-of-friends and that you have a list of everybody's contact details and up-to-date info about what they're up to…

Weak Ties
It's all about your weak ties. And that means your casual acquaintances, not your neckwear. Facebook famously nurtures loose friendships, which is often why people dislike the social network, but a broad range of people you're friendly with is ideal for job hunting. See this article on Malcolm Gladwell's ideas of connectors and your networks of acquaintances for more on this.
The trick is to use your Facebook wall for good – don't be a bland corporatchik – but do seem interesting and fun and do add people as friends.
See this Business Insider article about using Facebook for good. Tips include the 80/20 rule:
"You need to spend 80% of your time sharing valuable things with your friends – interesting articles (that you didn't write), links to news stories, status updates about your life, etc. – and you need to spend the other 20% of your time promoting what you have to promote.."
Make sure you add your professional achievements and qualifications into the appropriate boxes, strengthen friendships with interesting people by commenting on their stories and well, be yourself… Though, maybe you should delete that 8 pints of beer group…
Okay so your friends may not the CEOs of big companies, but they can put in a good word for you. And if all else fails – there's always Linked-In…
By Anna Leach | April 13th, 2011
---
---
Must read posts: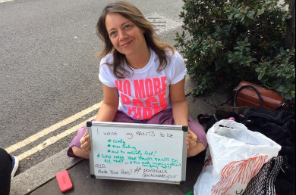 shinyshiny speaks to No More Page 3's Lucy-Ann Holmes...
---
---