It's tough to compete with Apple, especially at the top end, and it looks like Dell has just withdrawn their Adamo range of super slim laptops after sales failed to meet expectations.
Designed to rival the MacBook Air for portability, design and performance, the Adamo was the thinnest laptop in existence at its launch in 2009, it featured a better resolution screen than the MacBook, aluminium casing and a cool sort of flip out stand which made the keyboard hover above the desk. I liked it. It also had a 13.4 inch screen, a dual core Intel processor
But the drawback seems to have been the price. Originally on sale for $2000 in the US, £1649 in the UK, it was way pricier than the MacBook Air at the time – the 13.3-inch model started at $1,299 and that 1.2GHz chip just wasn't quite powerful enough to convince the power users.
Still, we loved the design so we're pleased to see Dell are incorporating elements of it into a new release arriving in the next six months. Just hope they can do something about the price tags…
[via cnet]
By Anna Leach | February 9th, 2011
---
---
Must read posts: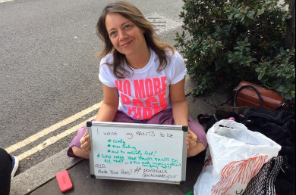 shinyshiny speaks to No More Page 3's Lucy-Ann Holmes...
---
---