We're used to thinking of the developing world as a place where we dump our second-hand technology. Old mobiles, cheap laptops and bashed-up computers – Asia, Latin America and Africa get the specced-down cast-offs of what we use in the West.
But – as one fascinating talk at CityCamp London yesterday pointed out – we're selling ourselves short if we think the flow of innovation only goes way. There is a lot we can learn back from the developing world about the inventive uses they find for the technology we take for granted.
That was illustrated for me very clearly a couple of weeks ago at a Qualcomm press conference where the CEO explained how the low-cost, low-power chips that his company developed for use in cheap phones in developing countries have been brought back into the West as the core elements of the Internet of Things… These cheap simple little plug and play chips that can run in anything from a toaster to a cow's stomach, are now the building blocks of the next wave of the world-wide-web.
There were four big ideas from the session :
a) Digital reverse Development
As our shaky economy faces the future, we could do with getting new ideas from wherever we can find them.. Dan McQuillan argued, and looking to the low-cost, sustainable solutions to community problems from the developing world was a great place to go looking for them.
[Dan McQuillan – @danmcquillan]
b) The Social Operating System
Just as Twitter would be nothing if people didn't tweet, so most communications technologies need people. And the networks are more useful when there are engaged people using them. This was the message of Janet from Brazil who said we need to have community spirit, or at least a common motivation before we build tools rather than just plonking expensive technologies down and hoping people find a use for them.
[Janet, on Twitter as @giantpandinha]
c) Learning to innovate at low-cost
You know the phrase "necessity is the mother of invention"? the speaker fromCEI had her own way of putting it: "creativity starts when you cut out a zero from your budget, and really starts when you cut two" learning to innovate at low cost was vital for us now. We should also be flexible in learning
And if we want true online communities we should address the segmentations in our realworld communities first – we need to learn to combine systems and communication.
[Katie Fyfe from CDI and apps for Good]
d) Using simple tools to reach the vulnerable
I know most of my readers on here will have smartphones, download lots apps and have broadband connections. But Africa is not the only place where people are still using candy-bar Nokias – only 20% of the population in the UK have smartphones, and among the ones who do, most of them don't have more than 2-3 apps. The socially vulnerable people in the UK are the ones least likely to have fancy phones. Designing an iPhone app to tackle social isolation or knife crime in the UK is not going to reach its target audience. FrontLine SMS is a texting network tool that puts people in contact with the people who can help them over text, reaching people on the wrong side of the digital divide and is used in both developing and developed countries.
[Laura Hudson for FrontLineSMS]
City Camp London was an ideas platform bringing together tech world people and people from public services to brainstorm how tech could make society better.
see more on it here: http://citycampldn.govfresh.com/
By Anna Leach | October 11th, 2010
---
---
Must read posts: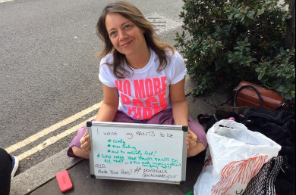 shinyshiny speaks to No More Page 3's Lucy-Ann Holmes...
---
---