When Tumblr arrived on the scene a few years ago it revolutionised blogging. With a combination of Twitter-style following and design that enhanced shortform blogging, no longer did you have to write a long essay when just a picture will do.
Earlier this year Yahoo snapped up the platform for a cool $1.1bn - and this was met with scepticism from many users. After all - it's like your grandad buying a baseball cap and wanting to join your trendy street dance crew.
So are you tempted to jump ship in case Yahoo do something stupid? What else is out there that's like Tumblr?
Pheed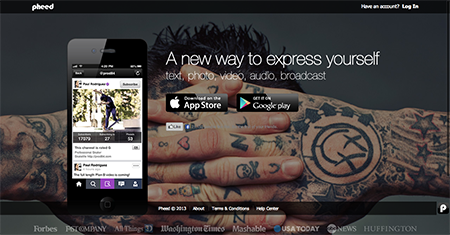 An unpleasant title yes, but a good replication of Tumblr's social
network functions. You can follow other users, gain followers and "remix" other
people's content. With support for video, audio and text it can do everything
Tumblr can. The only thing it lacks is the user numbers.

What's particularly interesting for content creators is that there is there are tools
that allow you to create chargable "channels" to make money from your work -
and you can flag the copyright status on content on a post-by-post basis, to stop
your work being ripped off.
Think you know Assassin's Creed ? Prove it! Take our Assassin's Creed travel quiz