Youtego – the web service that helps you discover yourself (and maybe get dates)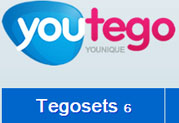 Who are you really? It's a recurrent question, but where people used to take six month trips to India to reflect on their lives, you can now use a web service that helps you understand yourself. Start-up Youtego – currently premiering in Beta – wants to help you self-visualise.
Like a therapeutic Facebook aimed at self-recognition rather than self-publicity, Youtego helps you visualise your live, skills and interests.
Basically you upload information about yourself: your name, age, interests, experience and skills and it creates a life story for you. Each time you add a 'tego' for yourself – say 'Reading' in the I love section it asks you to choose an icon to visualise it. Youtego automatically offers you a selection from photo sharing sites Flickr or Picasa. Or you can upload your own. You end with a string of pictures of things that relate to you.
It's quite fun in a narcissistic sort of way. We've been playing around in the beta version and Youtego treads a fine line between a self-assessment form for a primary school kid – with categories such as: "I love…" and "I can…" and a sort of dating site… where you get automatically matched up to people who like the same things as you.
The match function is pretty simple. If you list watermelons or Sonic Youth in your "I love" section, you can check out your matches i.e. other people who have listed watermelons or Sonic Youth in the I love section (and filter them by gender, if you so desire).
You can add what your friends think about you and what qualities you value in yourself.
Sometimes it gets a bit too zen: check out the tour video below – it's fifty percent the music:
ReadWriteWeb sums up the appeal: "Some of the most viral experiences on the internet are also self-referential." The visually-pleasing navel-gazing Youtego offers could do well.