You don't need to be bad (or called Ellen) to wear Ellen's Naughty Knickers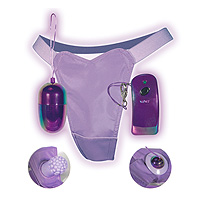 The naughty chair, the naughty hat and the naughty corner – all three things associated with unruly behaviour and a complete disrespect for authority. Ellen's naughty knickers however, have nothing to do with disobedience, unless of course you're into role play (I can't believe I just wrote that *cringe*). From the outer surface they appear to be an ordinary pair of purple panties (that bear a close resemblance to a jockstrap). The inside however, tells a different story. In the gusset you'll find a mini dong, you then take the included vibrating egg and place it inside to get your stealthily controlled thrills. A wireless remote ensures this is as furtive as possible. And if you really want to mix things up, you could hand the remote over to your partner and be completely at their mercy.
There's a one size fits all policy on the naughty knickers with the words "stretch to fit" in the sizing area of the product page. So that should have you covered.
At £44.95 here, this sure is one pricey jockstrap.
More naughty toys this way