LG GM730 debuts bringing Windows Mobile 6.5 along with it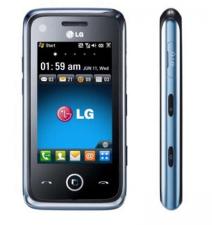 LG's GM730 is one of the first handsets to come bundled with Windows Mobile 6.5, the latest iteration of the Microsoft operating system. LG have dubbed the new model an "easy to use" smartphone, capable of delivering a "winning formula". By that, I think LG is referring to its specs which are a little hazy at the moment, but do involve a sizeable screen, a 3D interface, HSDPA, HSUPA and quadband EDGE.
It's appears to have stolen some of its looks from the KP500 Cookie, but with Windows Mobile 6.5, a sizeable touchscreen and great connectivity options under its belt, something tells me the two handsets certainly won't be on par.
When we know more, so will you. But Windows Mobile zealots should expect it to hit the shelves in Q2.
[via Know Your Mobile]
More phones here