Philips launches featherlight Essence TV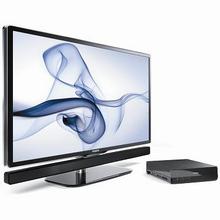 We first saw the set at IFA, and now, Philips has released their superlightweight Essence TV on the world. It's a reaction to the number of people terrified of mounting their set on the wall for fear of pulling down the entire house with its weight.
It weighs just 16kg, mainly due to the fact that most of the clever stuff is housed in a separate box. That leaves just one cable, which takes care of power, picture and sound – all your inputs get plugged directly into the box. There's also a levelling bracket included, so it's easy to hang and keep straight.
The box features three HDMI inputs, and the screen boasts a 2 millisecond response time and there's a dynamic contrast ratio of 66,000:1. Such luxury doesn't come cheap though – this 42-inch screen will set you back £1999.

Philips