The world of mobile news is scary and complicated, with rumours flying about all over the place about what the many different companies are planning on doing. If you don't know what you're looking for then chances are you won't get very far, so to ease your burden here are some of today's biggest mobile rumours.
1. The Nexus X/6/Shamu's price has reportedly leaked
Indian export website Zauba has listed a number of smartphones sent into the country, and Shamu was one of them. According to the website the phone will cost 34,982 rupees, which is roughly £349. That's not official, but it is a bit more expensive than the nexus handsets that we've seen in the past — indicating we may see a fairly high-end nexus device when it's released. [Zauba via IBTimes]
2. There might be two variants of the Galaxy Note 4
The first rumours about two different versions of the Galaxy note 4 stem back to the idea that the phone would be released with some sort of curved screen. Originally it was assumed that this would be restricted to certain regions, possibly Korea. Now it appears that the curved variant might be more widespread that originally assumed, though it's unlikely that it will be made available on the same day as the regular Galaxy Note 4.
We don't have a specific release date yet, but we're likely to find out at Samsung's press event on Wednesday. Currently, the rumour is that the phone will be made available on 26th September. [PC Authority]
3. Rumours indicate a possible release date for the HTC smartwatch
According to @upleaks HTC is going to be announcing its own wearable is set to be released in various countries around the world before the end of the month. There's no information on design, specs, or price, just that the device will be called the HTC CWZ. It's not much to go on and it is still a rumour, but HTC did promise that the company would have a smartwatch on sale before Christmas. [@upleaks via Ubergizmo]
By Tom Pritchard | September 1st, 2014
---
---
Must read posts: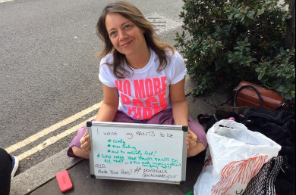 shinyshiny speaks to No More Page 3's Lucy-Ann Holmes...
---
---