A lot of people have been excited about the Moto 360, one of the first impressive circular smartwatches to come our way. The problem is that in the three months since it was revealed the competition has had a chance to catch up. So meet the LG G Watch R, a circular smartwatch that could trump the Moto 360.
The LG G Watch R comes equipped with a 1.3-inch OLED display with 245ppi, a 410mAH battery that lasts a day and a half in ambient mode, Google Now voice control, waterproofing, a heart-rate monitor, and the usual smartphone connectivity that all smartwatches have. One bonus feature is that it can piggyback off your phone's GPS rather than having its own. While this means you can't use it for directions without being connected to your phone, it at least means you have the option of GPS enabled apps on your wrist without having to dig your phone out of which ever bag pocket you stuck it in.
The G Watch R will be on sale sometime in October for an unspecified price point. While it's irritating that we don't know a price yet, LG did reveal that it will cost more than the original G Watch's £159. [Gizmodo UK]
By Tom Pritchard | September 5th, 2014
---
---
Must read posts: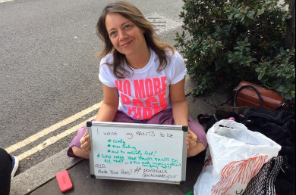 shinyshiny speaks to No More Page 3's Lucy-Ann Holmes...
---
---