Those Apple rumours just keep coming, especially coming up to the iPhone 6′s rumoured launch window, and keeping up with them all is proving to be a difficult task. To keep you up to speed, here is today's round-up of the biggest Apple rumours and news.
1. The new iPad Air might not have improved resolution
We've heard virtually everything there is to know about the iPhone 6 already, so now the rumour mill is moving onto the next big item on Apple's (probable) release schedule: the new iPad. Unfortunately reports are suggesting that the updated tablet won't have much of an update at all, with no change in screen size and no change in resolution. But be grateful, because Apple is working very hard in making the tablet thinner than ever before. Yay?
That's not all tat's changing, apparently the iPad Air 2 will have a boost to an A8 processor, and a TouchID sensor that will let users authorise purchases and unlock the device by scanning their fingerprint. [Digi Times via TechRadar]
2. Jony Ive has reportedly boasted that the iWatch will be "big trouble for Switzerland"
That's according to a member of his design team who made it clear that Ive didn't say those exact words, he used much stronger language. Obviously referring to famed Swiss watch companies like Swatch, it does show that Ive apparently has a lot of confidence in Apple's first wearable. Considering Apple has discussed charging $400 for the iWatch, it wouldn't be surprising if that was a universal opinion in Apple HQ. [Apple Insider]
But wearables and smartwatches haven't been particularly popular with the consumer so far, so Apple could be getting ahead of themselves. Then again, based on past experience, if there's anyone who can make a gadget popular, it's Apple and its legion of fans.
3. Apple nutters fans are already queuing up for the iPhone 6
Apple press event isn't for another five days, and it's not 100 per cent confirmed that the iPhone 6 will even be at the event (though it's highly likely), yet people are still queuing up outside Apple's flagship store in New York in order to be the first people to get their hands on the new phone. Do these people not have jobs? Have they not heard of home delivery? What is Apple announced that the iPhone 6 won't be out until October, will they just queue up for a month? [9to5Mac via Neowin]
By Tom Pritchard | September 4th, 2014
---
---
Must read posts: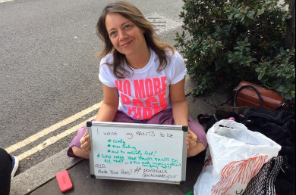 shinyshiny speaks to No More Page 3's Lucy-Ann Holmes...
---
---