The world of mobile news is scary and complicated, with rumours flying about all over the place about what the many different companies are planning on doing. If you don't know what you're looking for then chances are you won't get very far, so to ease your burden here are some of today's biggest mobile rumours.
1. Possible camera specs for the Galaxy Note 4 leak
It's less than two weeks until Samsung is expected to officially unveil the Galaxy Note 4, but that doesn't stop the speculation and the rumours. Now it seems that the device's camera specs have leaked, and they're pretty impressive. Apparently the device will come with a 16MP camera with Optical Image Stabilisation, and is capable of recording 3840 x 2160 UHD video at 30fps. The front camera is supposed to be capturing 3.7MP shots.
But that's not all, the Note 4 will apparently come with a "side touch button", which is a new gesture that lets you unlock the camera even when the phone is locked. It'll also have four new modes, three of which are based around taking selfies,. They are Selfie Alarm, Wide Selfie, Selfie, and Create a GIF. [Phones Review]
2. The sequel to the Moto X, the Moto X+1, has been spotted online
As a parting gift, retiring serial leaker @evleaks has given us a quick glimpse of what Motorola is supposed to be unveiling at this year's IFA: the MotoX+1. They're not just poorly lit photos taken in a factory corner somewhere, these are fully formed press shots that give us a great view of Motorola's upcoming flagship. The photos confirm certain details we've seen before, like optional wooden back and dual camera flash, but they have also shown us a few others things we haven't seen before. Most noticeably are the dots on the top and bottom of the bezel, what are they?. Engadget suggests they may be motion sensors similar to the ones found in Amazon's Fire Phone, or they could just be some oddly placed screws. But, with IFA around two weeks away, we don't have long to wait before we find out for sure. [@evleaks via Engadget]
By Tom Pritchard | August 22nd, 2014
---
---
Must read posts: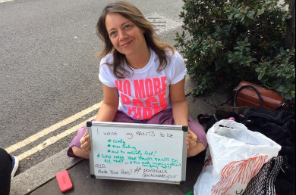 shinyshiny speaks to No More Page 3's Lucy-Ann Holmes...
---
---