Those Apple rumours just keep coming, especially coming up to the iPhone 6′s rumoured launch window, and keeping up with them all is proving to be a difficult task. To keep you up to speed, here is today's round-up of the biggest Apple rumours and news.
1. More supposed iPhone 6 hardware specs have leaked
We know most of what's probably going to be in the iPhone 6, but there was still plenty that hadn't been revealed — until now. Reports claim to know a little bit more about the processor in the iPhone 6, which is welcome news because so far we've only heard that it'll have an "A8″ processor. the leak, first published at VentureBeat claims that the processor will indeed be an A8, and will run at 2GHz per core. How many cores there are has not been stated.
They also make note that the iPhone 6 will not have sapphire glass displays, nor will it have Gorilla Glass. Instead it will have a newer material that is roughly halfway between the two in terms of strength. Other details include more corroboration that the device will have NFC, and that the TouchID system will be improved to speed up fingerprint scans and reduce the number of false rejections. VentureBeat also makes note of some sort of lightning connection authentication with Beats headphones, but no details have been shared. [VentureBeat]
2. A report disputes claims that the Chinese government banned employees from using Apple devices
Yesterday reports came to light that claimed the Chinese government had banned government workers from using Apple devices on the job, no real reason. Today another report has come to light that claims that this is not the case. What had actually happened was Apple products didn't make it onto a list of energy efficient devices approved for buying with public money. Apparently this is down to the paperwork related to energy-saving standards not being filed.
This doesn't mean Chinese government employees cannot buy Apple products, it just means that they have to go through other channels in order to purchase them with public money. [Apple Insider]
3. An Apple patent details a Siri-like system for OS x
The 92-page document published by the US Patent and Trademark Office outlines an "intelligent digital assistant in a desktop environment", which sounds an awful lot like Siri could be making the jump from the iPhone and iPad to the Mac. The desktop version is supposed to be able to process natural speech and text, as well as completing jobs like web searches and data retrieval. So it sounds like Apple is trying to make the desktop Siri as intelligent as the mobile version. [Apple Insider]
Featured image by Martin Hajek
By Tom Pritchard | August 7th, 2014
---
---
Must read posts: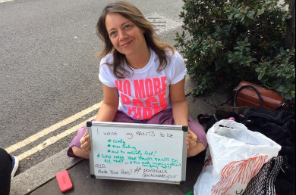 shinyshiny speaks to No More Page 3's Lucy-Ann Holmes...
---
---