Those Apple rumours just keep coming, especially coming up to the iPhone 6's rumoured launch window, and keeping up with them all is proving to be a difficult task. To keep you up to speed, here is today's round-up of the biggest Apple rumours and news.
1. The iPhone 6 could be launched on 9th September
According to Recode Apple has organised a press event for 9th September, and claims that it will be the platform Apple uses to launch the iPhone 6. This has been in part confirmed by Bloomberg who separately reported that the launch will take place on the same day.
There is no confirmation from Apple just yet, and chances are we'll have to wait until the day to see what's actually announced, but it is almost the same time period as the launch of the 5S and 5C last year. For now, it's nice to know that a date has been set, and Apple fans have something to look forward to. [Trusted Reviews]
2. Apple has been awarded patents for powering a keyboard and mouse wirelessly
Wireless charging is becoming a common feature in mobile devices, but what about wireless power? It could be a reality in the near future now that Apple has been awarded a patent for technology that powers low-yield devices wirelessly — without the need for a battery.
The patent notes that the system is designed to create ""efficient and friendly interaction between peripheral devices in a wirelessly powered local computing environment." The system is designed to utilise near-field magnetic resonance, or NFMR, to transmit power and negate the need for batteries altogether. It's reported that the system will involve a desk-bound wireless battery pack that will power a number of devices, like mice and keyboards. [Apple Insider]
3. The iPhone 6's mobile payments could be powered by Visa
A couple of weeks ago we heard rumours about Apple implementing its own mobile payment system on the iPhone 6, now it looks like that system might be powered by Visa. Visa recently launched their own service "Visa Checkout"that allows customers to purchase goods online, or via a mobile app. A partnership with Apple would put Visa in direct competition with PayPal, who are currently partnered with Apple's biggest rival Samsung. [ITPro]
By Tom Pritchard | August 6th, 2014
---
---
Must read posts: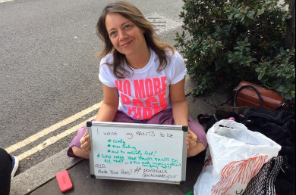 shinyshiny speaks to No More Page 3's Lucy-Ann Holmes...
---
---