This evening Apple's WWDC 2014 developers' conference kicked off, meaning there were a whole host of exciting announcements made about the tech giant's new features and operating systems. But, as usual, reading tweets about the event was probably more entertaining than watching the actual event itself, so here's our pick of the most informative, inspiring and LOL-worthy updates about the keynote:
The totally un-staged call with Dr. Dre didn't go down all that well
@MadBennett He's a Doctor and it's after 5pm – he'll be charging overtime rates #wwdc

— Chris Merriman (@ChrisTheDJ) June 2, 2014
Dr Dre cameo is the most awkward moment of WWDC so far. It beats the spoon

— Olivia Solon (@olivia_solon) June 2, 2014
Dre's number. #wwdc14 https://t.co/d0QsMhoZM5

— Zack Davenport (@mrdavenport) June 2, 2014
Did he really just address Dre as "Doctor"? #wwdc14

— Laurie Voss (@seldo) June 2, 2014
Being able to call Dr Dre live on stage was so worth $3 billion

— Jason Jenkins (@jenkojenkins) June 2, 2014
No one was really sure what to make of Craig Federighi and his super cool dad jokes
Impressed that Apple managed to book Paul O'Grady for the WWDC keynote. #wwdc

— James O'Malley (@Psythor) June 2, 2014
It's so weird that they bring Ned Flanders out to keynote these #WWDC events.

— I Am Devloper (@iamdevloper) June 2, 2014
"Check out that trash can, that is a gorgeous trash can" – Craig Federighi #WWDC OS X Yosemite

— Selena Larson (@selenalarson) June 2, 2014
Unfortunate screen shot…! RT @Complex_Tech: Apple iOS 8: answer messages right from notifications bar. #WWDC14 pic.twitter.com/5RUlulnrBt

— Henry Elliss ® (@henweb) June 2, 2014
People became increasingly frustrated by the use of the word "kit"
Kit KIT KIT KIT KIIIIT #FucKIT #WWDC14

— Gerald Lynch (@geegeemidnight) June 2, 2014
Turns out that 'kit' is the new word that everyone's going to stick on the end of everything for the next three years.

— Duncan Geere (@duncangeere) June 2, 2014
Others just revelled in it all
This is all pretty cool, isn't it? CloudKit, HomeKit. TouchID APIs, Extensions. Awesome. #WWDC14

— Dan Grabham (@dangrabham) June 2, 2014
Some postulated about the limitless creative possibilities of the new features
Great, you don't even have to unlock your mate's phone to post abuse on Facebook now #WWDC14

— Thomas Newton (@Thomas_Newton) June 2, 2014
Some found the developments a little creepy
Guessing the possible answers to a text is one short step away from making the decision for you… spooky. #WWDC14

— Jamesholland (@Jamesholland) June 2, 2014
Terrifying – Siri integration — you can say "get ready for bed" and your house will respond by locking doors and dimming lights. via @verge

— Joe Carlyle (@JoeCarlyle) June 2, 2014
But the new features did admittedly make us all feel a bit inadequate
Youngest developer in #wwdc14 audience today is 13. I am several years older than that, and can't really program my thermostat at home.

— Chris Davies (@c_davies) June 2, 2014
Some very interesting observations were made
Judging by the audience shots I'm presuming that the Apple presentation is taking place is Saudi Arabia. Haven't seen a single woman. #wwdc

— James O'Malley (@Psythor) June 2, 2014
The install base of iOS 7.0 is an asphyxiated, dead Pac Man. pic.twitter.com/nvKQkYucsM

— Dan Hon (@hondanhon) June 2, 2014
But there's always one who isn't happy
No hardware launched at #wwdc14. So disappointing.

— Michael Whitehouse (@mjwhitehouse) June 2, 2014
By Becca Caddy | June 2nd, 2014
---
---
Must read posts: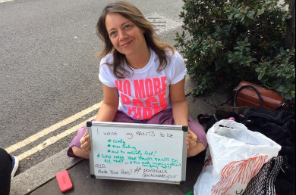 shinyshiny speaks to No More Page 3's Lucy-Ann Holmes...
---
---