SPOILER ALERT
Game of Thrones fans were all shook to their very core at the beginning of this week, when a character we'd grown to know, love and genuinely root for experienced a particularly gory and unexpected end.
Well, if you're still feeling a little scarred and hurt by what happened, then we're here to give you a huge, much-needed dose of denial. Check out this alternate ending created by YouTube fan Ozzy Man that's currently doing the rounds on Twitter, in which everything ends in a much more feel-good, heart-warming way. Granted it's not the most well-made alternate ending (and no, we've no idea why Tina Turner sings at the end), but if you're looking for a bit of support to help you get over Monday night's horror, then this video might be just what you need.
By Becca Caddy | June 5th, 2014
---
---
Must read posts: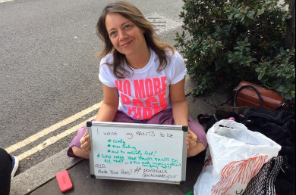 shinyshiny speaks to No More Page 3's Lucy-Ann Holmes...
---
---