Back in the olden days, people used to have their calendars not on their smartphone, but on their wall. No – not their Facebook wall – I'm talking about that "meatspace" structure made of bricks in your kitchen. Though not much is known about this strange phenomenon, anthropologists now believe that these physical calendars used to be part of a ritual where in the new year the old calendar is thrown out in favour of a new one – with a huge decision needing to be made about whether the new year was going to be photos of cats, or photos of dogs.
Luckily our society has moved beyond this now – but there is still a choice to be made… on which calendar app to use. Everyone who has used iOS7 knows the default calendar is terrible… so here's four alternatives and a very useful addendum.
Tempo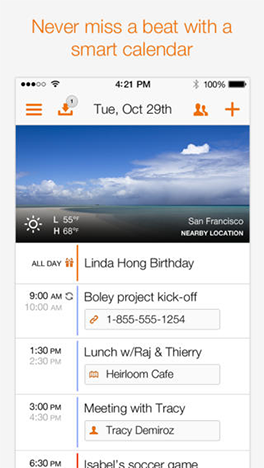 Tempo is an excellent option for business users with some useful
bonus functions on top of the normal calendar functionality. There's a big focus on
integration with your phonebook - so finding your colleagues' calendars should be
straightforward. And cleverly, you can even use the app to send a "running late" text
at the touch of a button to the people you're supposed to be meeting.

There's built in support for directions and weather too Plus if the meeting is remote
- you can use the app to dial in and not have to faff around with passcodes. Clever!
---
---
---
---
---