The Guardian today ran with the story that according to one network demand for the new iPhone 5C was only a tenth of what it has been for previous new Apple mobiles.
A source told the paper
"It's been a big disappointment," said a mobile network source. "We are seeing a decline in the number of pre-orders. They are 60% to 70% less than we were expecting, and we didn't expect them to be massively high given it's not the flagship model."
But is it just the iPhone 5C that hasn't been anywhere near as popular as previous models?
It appears that even the retailers think that unlike in previous years when the phones sold out quickly this time there will be plenty to go round.
Scott Hooton, Chief Commercial Officer at Phones 4u has said that his store intend to put 'five times more iPhone stock into store for launch, compared to any other year before.'
That either means that Phones 4u has got a special new arrangement with Apple or that demand for the phones is nowhere near what has been expected.
So is he putting a positive spin on the lack of demand, or is the opposite true and that the phones are still going to be hugely popular?
Here's what he said

"Apple mania has truly taken a firm grip on the nation this week, so we are extremely pleased to be putting five times more iPhone stock into store for launch, compared to any other year before, which will help enable us to meet this demand from our customers. We are also proud to announce that we anticipate to have iPhone stock available in every Phones 4u store across the UK at launch this Friday, as well as over the launch weekend. This is great news for all those iPhone fans who are wanting to get their hands on the latest smartphones from Apple!"
By Ashley Norris | September 19th, 2013
---
---
Must read posts: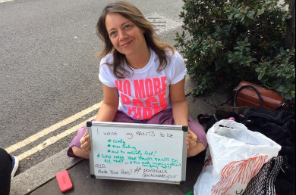 shinyshiny speaks to No More Page 3's Lucy-Ann Holmes...
---
---