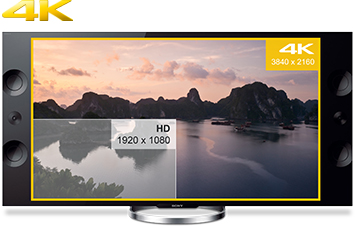 Forget High Definition! If you want to see an even clearer image - four times clearer than current HD in fact - what you really need is one of Sony's latest 4K TVs.
Boasting over 8 million pixels (3840 x 2160 resolution), images are refined with sharp details and colours to provide a picture that goes well beyond full HD. But don't just take Sony's word for it. Apparently, so the story goes, film maker Garth Davis was so blown away by the picture quality that he stopped mid-sentence while talking to someone at the Sundance Festival just to have a look at it.
That resulted in Davis, who is best known for his Grammy nominated TV mini series Top of the Lake with Piano director Jane Campion, working on the TV ad himself.
"First time I saw a Sony 4K TV it was like opening my eyes," enthuses Davis. "It's four times the detail of HD - colour becomes richer, details become richer. For a film maker that changes everything because now there are no more barriers between the world I see and one I can show you."
Nor is it just the picture quality that is getting people excited. Built in wi-fi means you can even attach your NFC one-touch enabled smart phone to the 4K TV so you can view precious images on the big screen instead of on a small handheld device. Take a look at the video below and see just how mind-blowing this picture quality is.
Image source: Sony website


Sponsored Post
Think you know Assassin's Creed ? Prove it! Take our Assassin's Creed travel quiz