In case you hadn't noticed the UK is in the midst of a bit of a vinyl revival. Downloads might have trumped CDs but ageing hipsters and cool young kids both still want something that can own and cherish and this has sent record sales stratospheric.
And now Amazon has provided evidence of the trend be reporting that sales of vinyl have grown by more than 100% in 2013. This is on the back of steady growth since 2006.
And rather than dance music which fueled vinyl revivals before it is rock and pop that is at the forefront of the trend.
Amazon has published its list of the best selling vinyl albums since 1999 and there's a surprise at number one. Even though it has only out a few months Daft Punk's Random Access Memories has sold more vinyl copies than any other album since 1999.
As for the rest of the list Adele and Amy Winehouse featured strongly alongside the staples like Pink Floyd's Dark Side of the Moon and David Bowie whose Ziggy Stardust makes the top ten alongside this year's album The Next Day.
Obviously it isn't just the big names that are selling records, Hundreds of smaller labels are issuing vinyl and we reported a while ago how bands were using Kickstarter to fund their vinyl releases.
The there is also the growing vinyl market in reissues and boxed sets. Cumbrian label Optic Nerve is just about to issue a deluxe version of British indie band 's the House of Love's debut album and that looks like a sell out too.
Here is the top twenty best selling albums on Amazon since 1999
1. Daft Punk, Random Access Memories
2. Adele, 21
3. Amy Winehouse, Back to Black
4. David Bowie, The Next Day
5. Pink Floyd, The Dark Side of the Moon
6. David Bowie, The Rise and Fall of Ziggy Stardust & the Spiders from Mars
7. Arctic Monkeys, Whatever People Say I Am, That's What I'm Not
8. Pink Floyd, The Dark Side of the Moon (30th Anniversary Edition)
9. Arcade Fire, The Suburbs
10. The Beatles, Love Me Do (50th Anniversary Limited Edition 7″ Single)
11. Radiohead, In Rainbows
12. Pink Floyd, Wish You Were Here
13. Bon Iver, For Emma Forever Ago
14. Radiohead, Ok Computer
15. Micah P. Hinson, Micah P. Hinson & The Gospel of Progress…
16. PJ Harvey, Let England Shake
17. Kate Bush, 50 Words for Snow
18. Alt-J, An Awesome Wave
19. The White Stripes, Elephant
20. The xx, xx
By Ashley Norris | September 13th, 2013
---
---
Must read posts: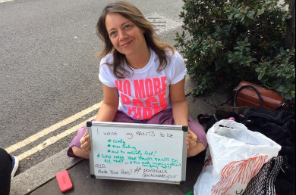 shinyshiny speaks to No More Page 3's Lucy-Ann Holmes...
---
---